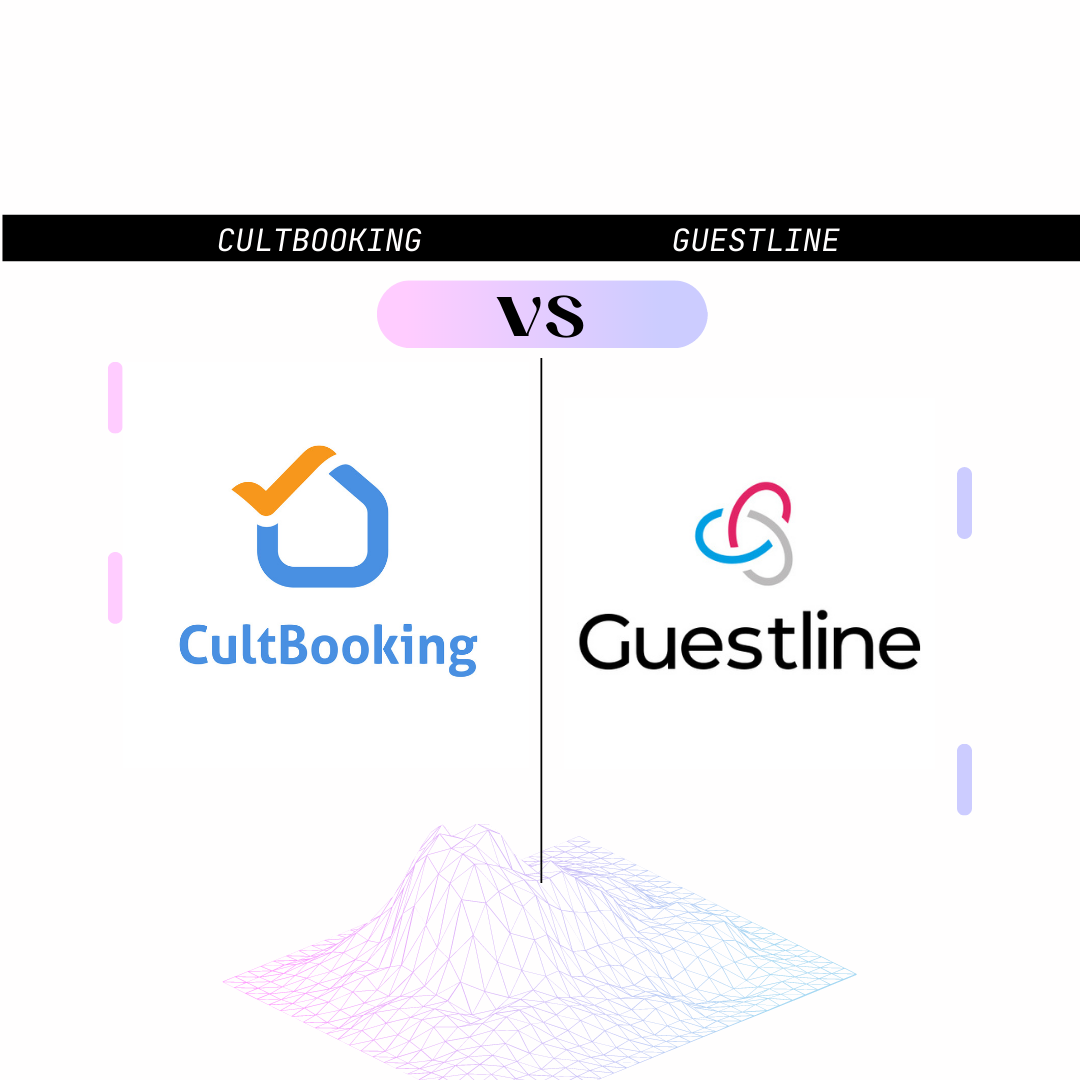 CultBooking Vs. Guestline
This article contains a comparison of two popular booking engines: CultBooking vs. Guestline. The analysis and comparison of the two services will be from the user's point of view. Both services give the client a user-friendly experience yet optimizing a booking flow: increase bookings and sales.
Nowadays, bookings are mostly done online. It has become so important as to be indispensable services(technology) for many establishments to boost potential income and it is an efficient way to offer guest their preferred accommodation type. Booking engine serves as an application of hotel websites that provides guest the opportunity to directly reserve/book a property online.
Guestline
Guestline operates for over 25 years in 25 countries across 5 continents. Since 2003, Guestlines' PMS integration migrated to Cloud Solutions and since then it is improving and continuously providing quality technology that meets the needs of hoteliers.
CultBooking
CultBooking is a branch of Cultuzz Digital Media GmbH, a Berlin-based industry, a leading provider of software and technology for tourism industry. CultBooking is connected with e CultSwitch Channel, a state-of-the-art software which offers innovative, high-quality solutions and services.
Comparison: Website
For comparison purposes, we may check O Valentim in Matosinhos, Portugal, that use Cultbooking Engine: https://www.ovalentim.com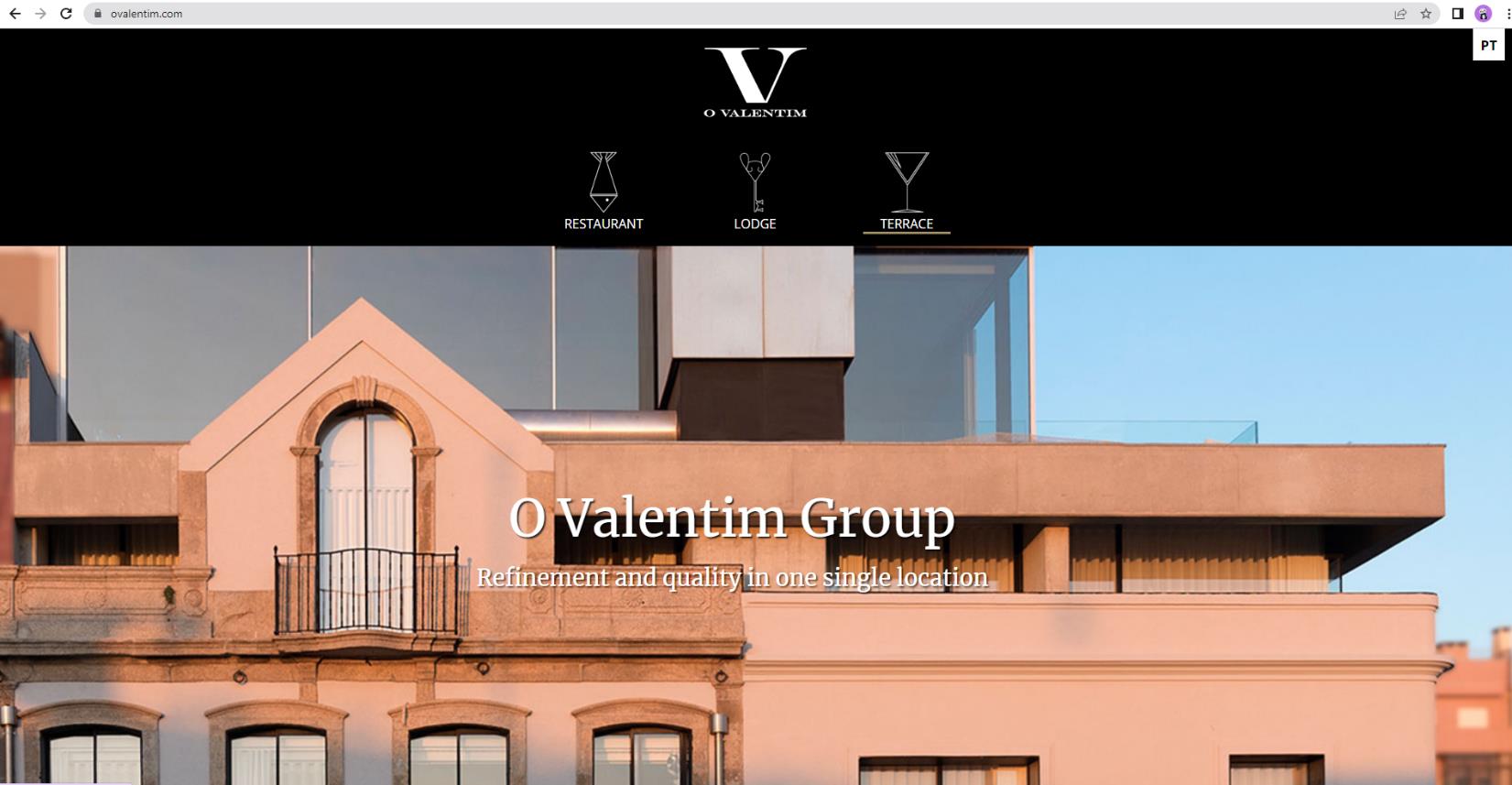 For Guestline Booking Engine, The Golden Fleece Hotel in Thirsk, Yorkshire, Uk, as an example: https://goldenfleecehotel.com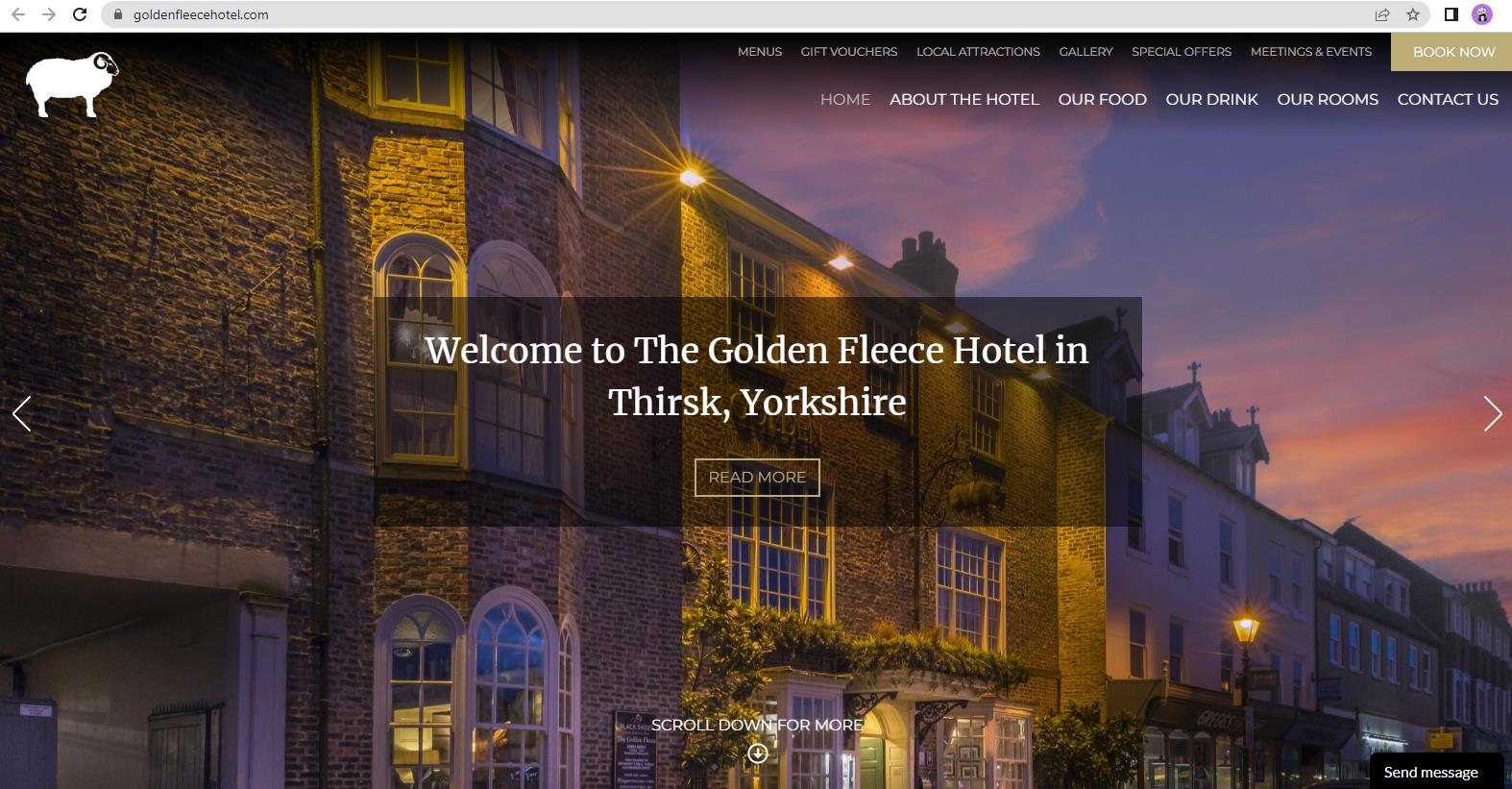 1 Calendar
It is always advantage and efficient to use Smart Calendar so that the guest can easily see room availability and save time searching.

Upon checking these 2 hotels who use different engine, the calendar from O Valentim is much easier to look up to. Here, when the customer enters the Check-in date, the Check-out dates easily appear showing a 2 month date calendar. If the customer wish to stay for future months they can easily select the next month or the arrow button. The customer can see their preferred check-in date up to check-out date because the dates are highlighted.

Smart calendar of CultBooking has all the needed features, it shows the lowest price room offer and days that are booked already.
It is clear on the calendar below the check-in is on June12 and wish to check out on June13. However, O Valentim does not utilize the Cultbooking smart calendar. It would have been an efficient way for a customer to check room availability easily and save time searching dates only to find out that it's not available.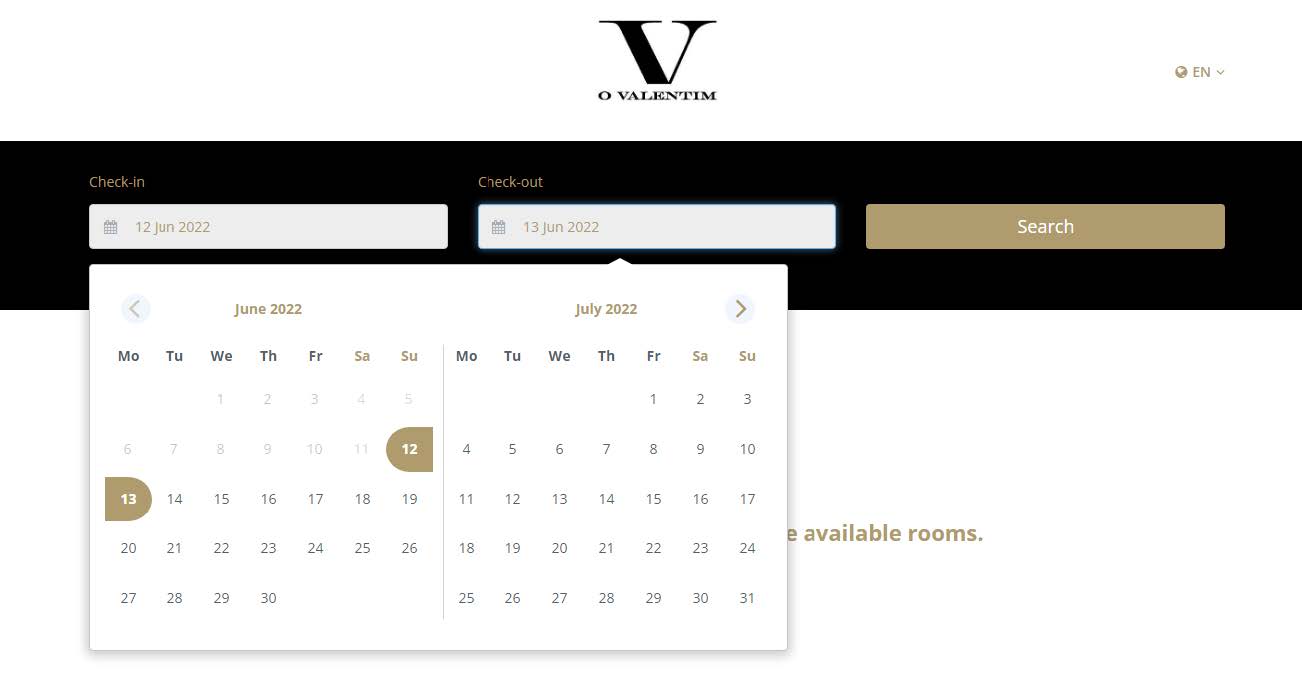 On the other hand, the calendar from Guestline is simple yet easy to use. As shown below, when the customer enters the check-in date, it will only show the 1month calendar, same as the check-out fields. If the customer wish to check-out in another month, arrow button is available.


What if the customer decided to change the date after clicking the search button? By clicking the "Clear Date" button, the customer can easily see the available and unavailable dates for check in. The date that has darker color means available and the color gray dates are not available for check-in.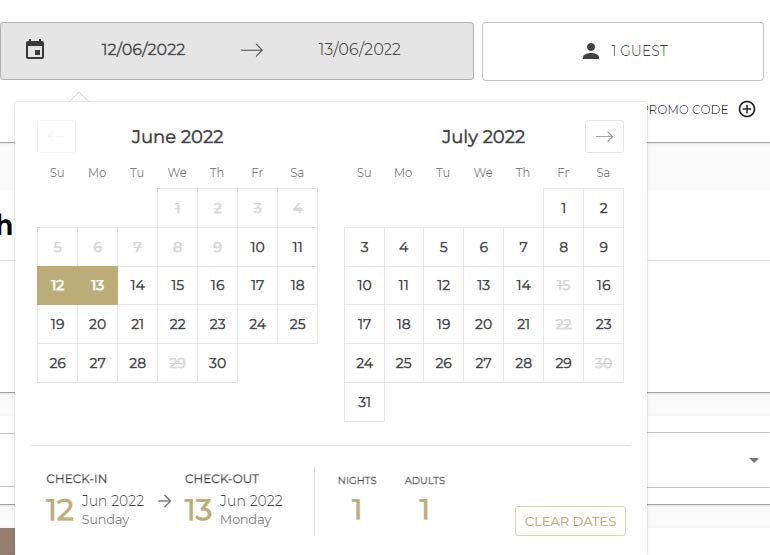 2 Functions
Promo Code

A Promotional Code is a way of giving complement to loyal customers and also a way to increase bookings.

CultBooking promo code field is very visible. If a customer wish to use a promo code, just click the "Have a promo code?" icon and a new field box will appear to input the code.


For The Golden Fleece Hotel promo code field, customer can directly input the code.

Occupancy Prices

Cultbooking tried to book for 1 guest on a certain date.

O Valentim use a CultBooking engine. Upon booking it has no guest field to input how many guests who wants to be in an accommodation. Picture below shows that it can accommodate 2 possible occupants for the price of 1 accommodation room. This is a best option for a potential customer who wants to have a bigger space without paying for 2 person or share with someone for a price of 1 accommodation room.
The Golden Fleece Hotel use Guestline booking engine. Cultbooking tried to book for 1 occupant only. Result shows a room that are available has a 2-maximum capacity. Pictures below shows a different room rate between 1 possible occupant and 2 possible occupants.
This is a clever feature of the hotel that utilize Guestline booking. When you book at least 7 days in advance, an offer of different flexible rates including bed and breakfast. It will show the different feature of the accommodation room with prices indicated in it. Possible occupants can easily select from the choices.
1 possible occupant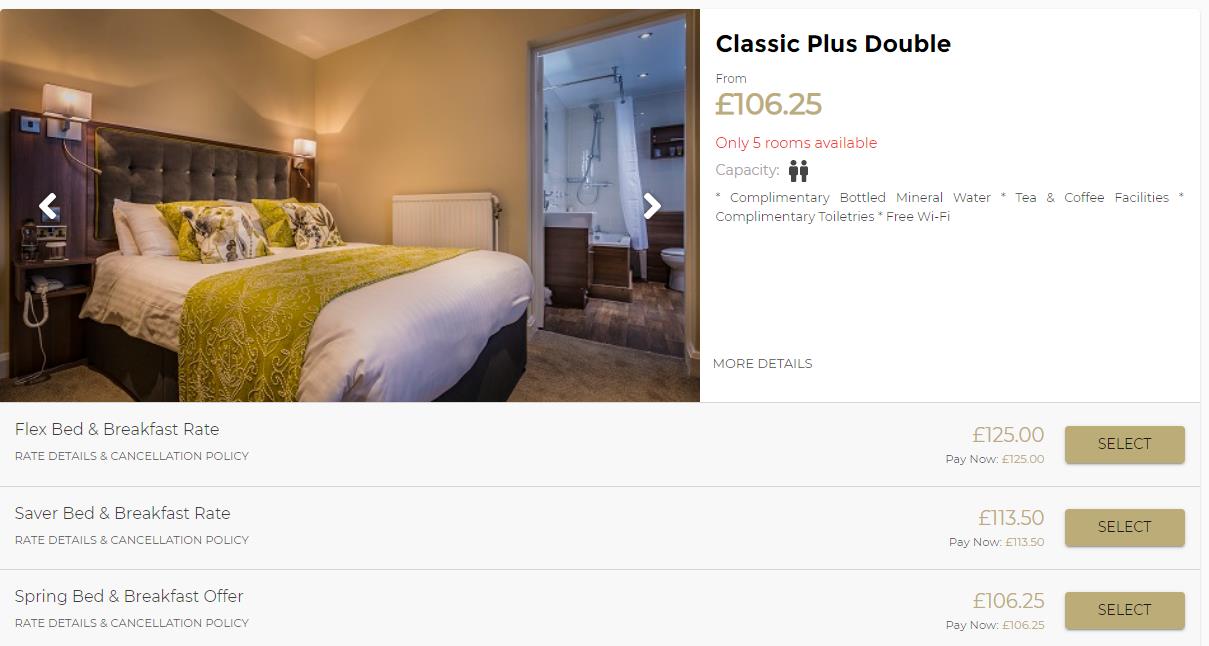 2 possible occupants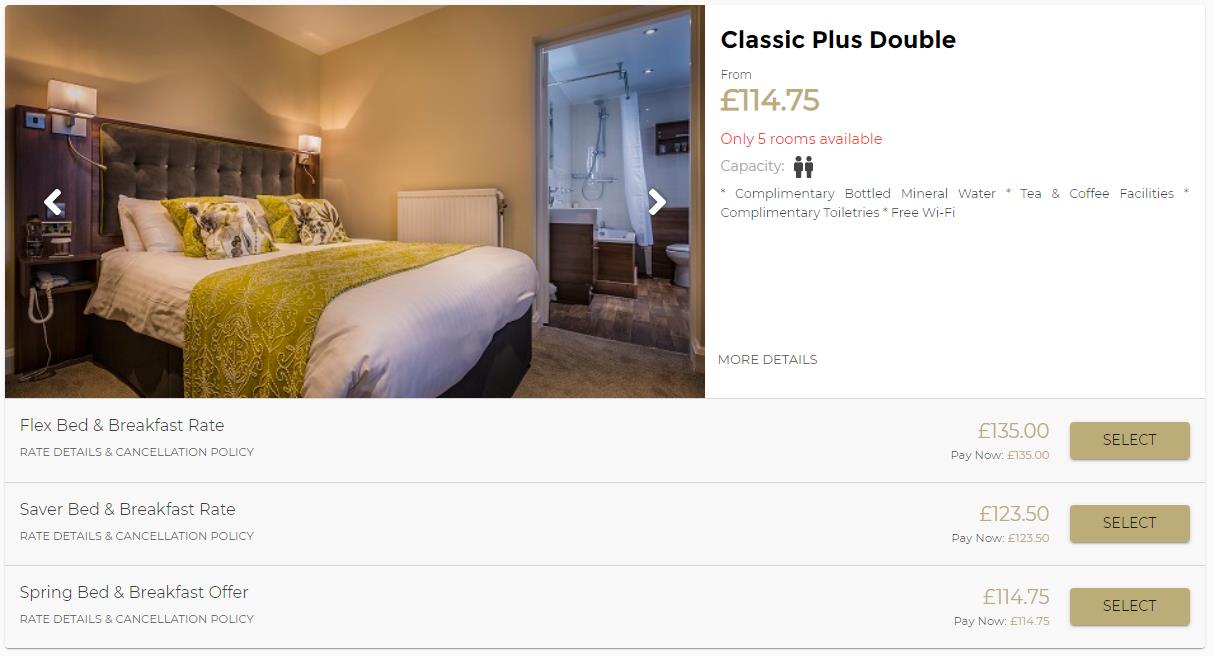 Children Prices
O Valentim hotel does not utilize this unique feature of CultBooking. Cultbooking observed that no children were indicated in the selection area. The price is considered as an adult guest.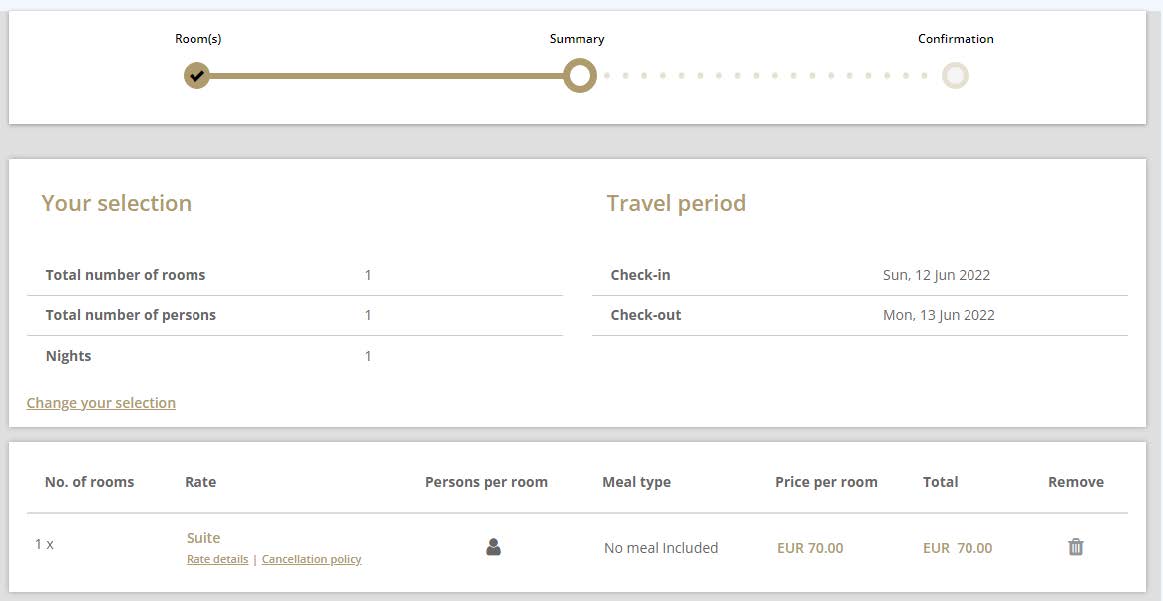 However, in the The Golden Fleece Hotel, in a 2-capacity accommodation room, 1 adult guest and 1 child is free of charge. You can see below the prices are the same with 1 adult guest and 1 adult with 1 child.

Booking Multiple Rooms
Both booking engines can allow a potential occupant to book multiple rooms.
O Valentim (CultBooking)

The Golden Fleece (Guestline)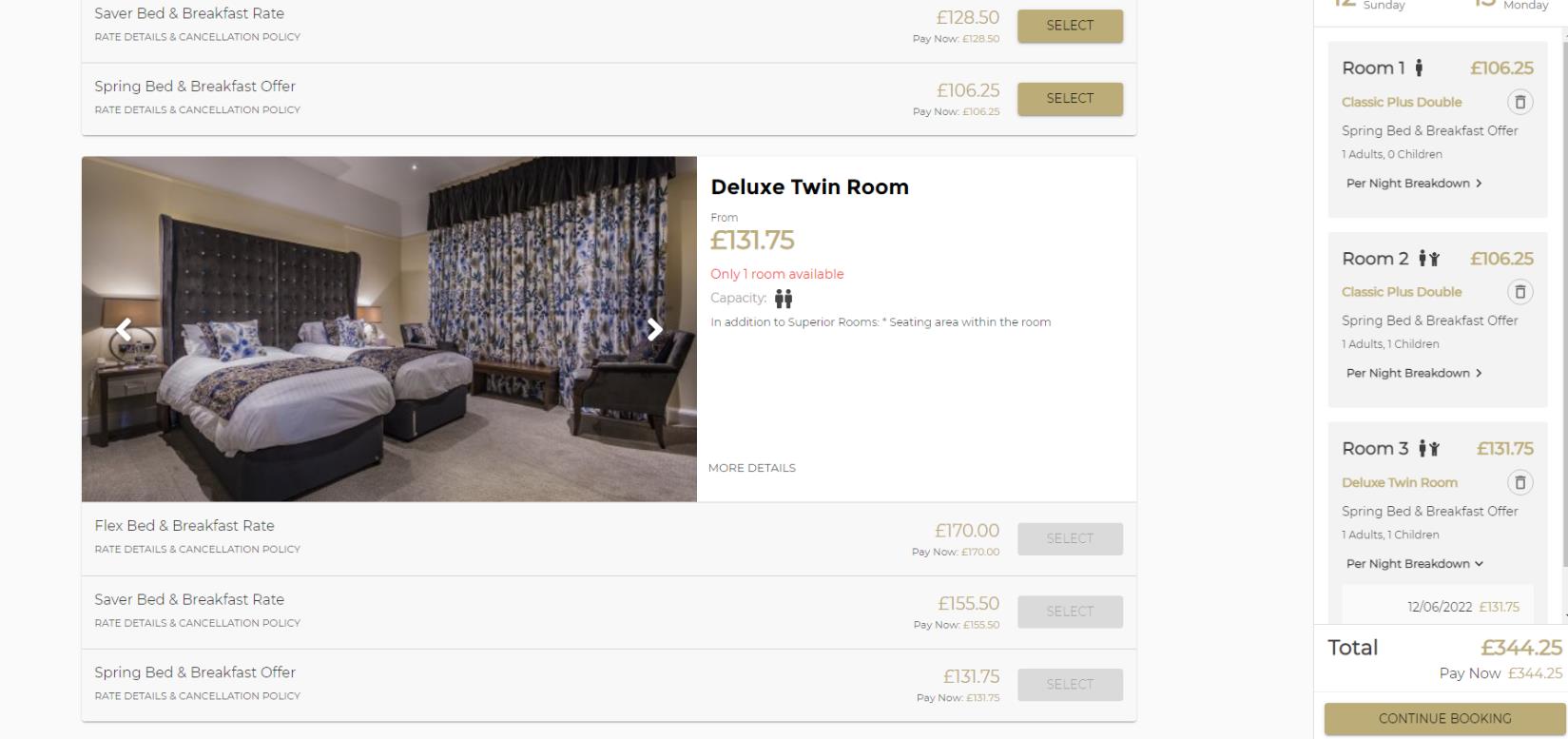 Gateway of payment
Payment gateway allows the hoteliers or hotel owners/managers to accept payments via credit or debit cards.
O Valentim Hotel offers payment upon arrival to the property. Credit/Debit Card's information are collected as a guarantee for the reservation. In the event of no show or late cancelation, the customer's card is debited according to the cancelations policy.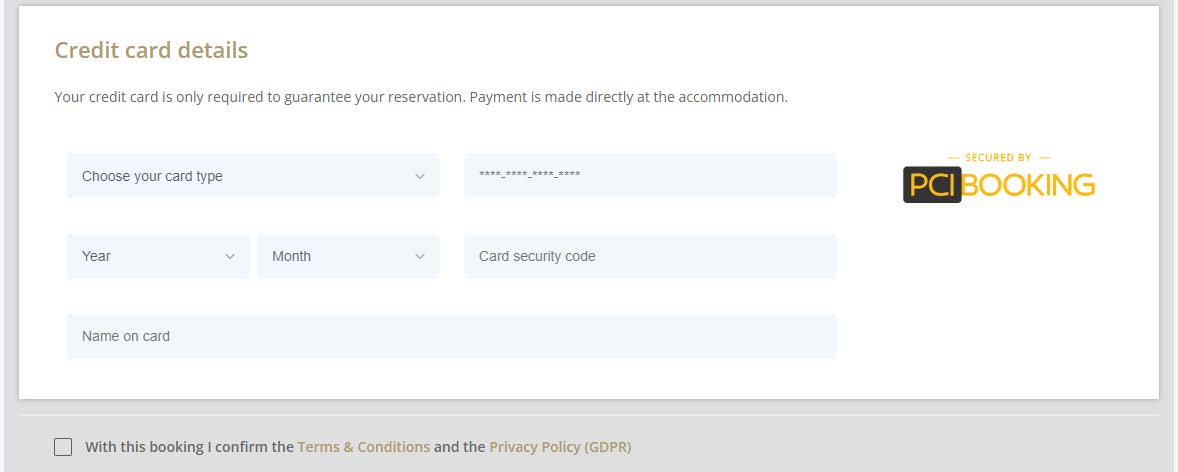 Picture below shows the CultBooking use PCI Booking. It means that the collected credit/debit cards information's are secured and safe.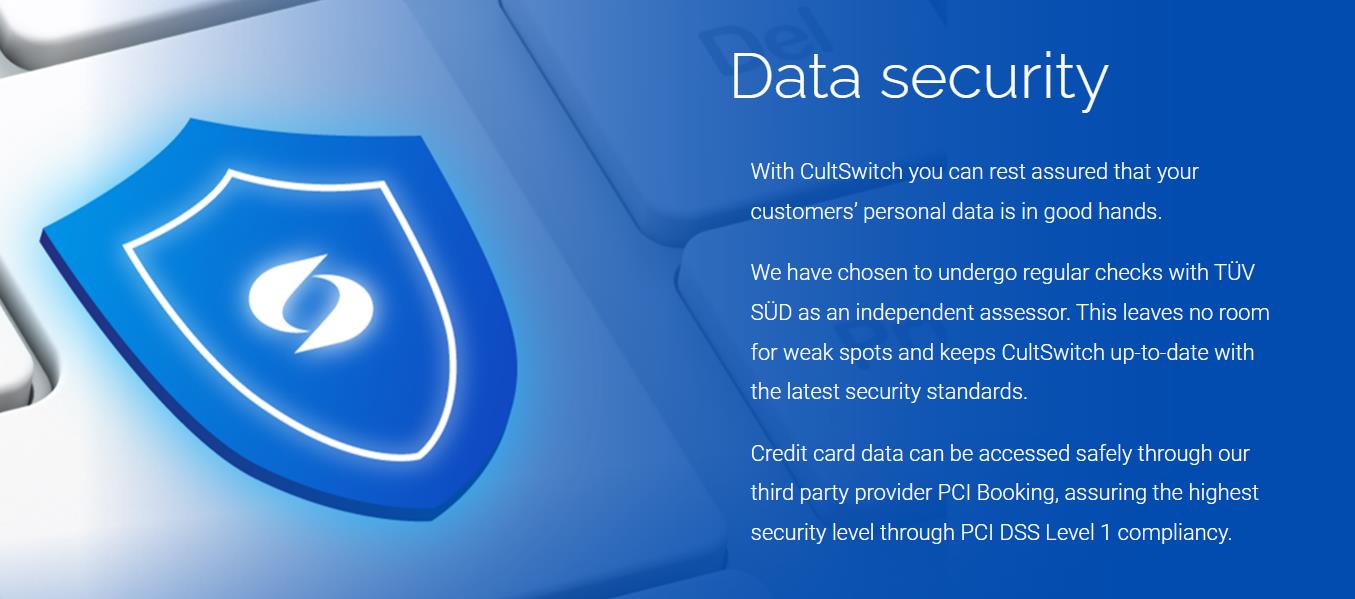 The Golden Fleece Hotel with Guestline secures the reservation when you fully pay the entire accommodation before arival. The Guestline have a new feature called "GuestPay". It is also a gateway that provides guests with a safe and secure payment platform on which to book and pay.
Picture below is a screenshot from Guestline's site.

Guestline continue to improve the gateway payment and will be implemented soon.
Screenshot below showing the new payment gateway on the reservation page in Rezlynx…

When executing an account check or payment, this page will display on guest's page and when payment is successfully made, a payment confirmation will be sent via email.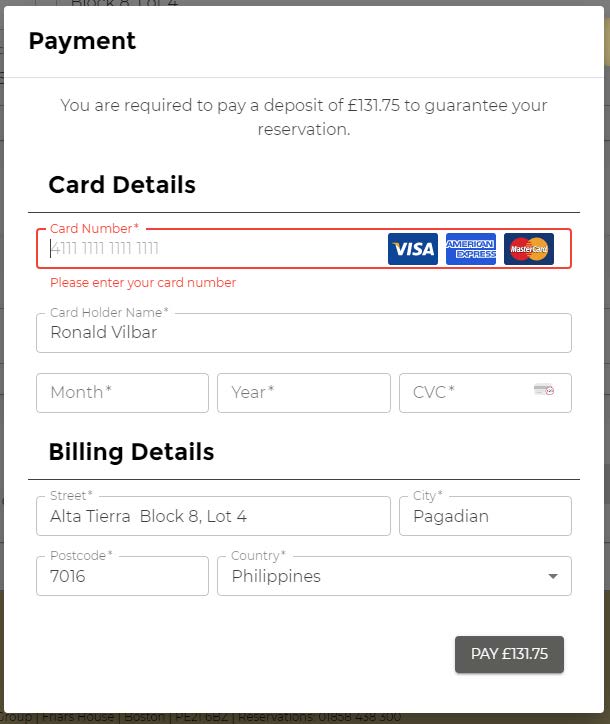 After successful payment transaction, this will appear in the grid of Rezlynx…

1.3. Add-ons / Extras
Add-ons
Both booking providers have this feature to offer an extras and add-ons to customers along with the booked room. This Add-on or Extras come with a breakfast, dinner, chocolates, bottle of water, or even a bottle of wine, the spa, the gym and parking areas. This feature gives the Hotelier the possibility to activate and generate more income to sell extras and add-ons.
CultBooking Extras page…

O Valentim hotel does not use this feature on their website. However, The Golden fleece Hotel activate this feature from Guestline.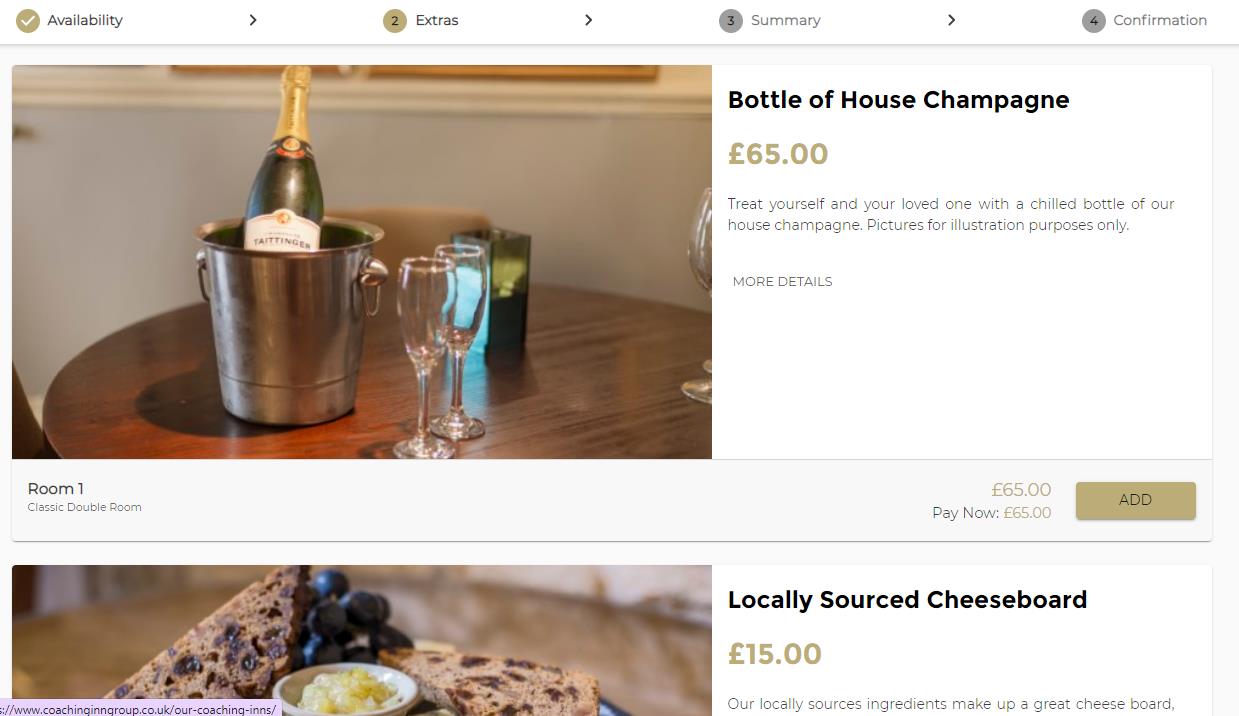 1.4. Internationality
Multiple Languages
In the world of hospitality industry, you have to connect to a worldwide clientele. English is a popular language but we also have to consider people who still prefer to browse their native language.
Both CultBooking and Guestline allow the hotel to choose their desired language to be apply in their website and not only that, hoteliers can also choose the numbers of languages to be activated in the system.
At O Valentim Hotel guest can decide between English or Potruguese. Button located at the upper right corner.
The Golden Fleece have no button for language and uses English.
Multiple Currency
Like languages, there are some guests also want to see their own currency efficiently converted. In that way, it is easy for them to decide on a certain accommodation to book.
CultBooking is diligently working and developing the multi-currency option and it will be available soon.
The Golden Fleece also have no currency converter. It uses Pound symbol. Take note that Guestline offers the hoteliers to customize the data according to preferences. Cultbooking noticed that wherever the property (accommodation) is located they use its own currency.
1.5. Personalization
Both booking engines will let you customize your account by adding your logo, select the web color and many more.
Cancellation tag offers a potential guest to cancel the booking for any reason.
1.6. Support
Responsive
Nowadays, a lot of people are using cell phones and tablets on their online transaction. Both CultBooking and Guestline are easy to use, very responsive and both platforms adapt to all devices.
1.8. Hierarchy
One of the advantages of Guestline over CultBooking is the multi-property system. This feature allows to operate and manage the operations within a single interface no matter how many hotels, resort or conferences you operate.
CultBooking is persistently working for this feature and hopefully implemented into the engine in the future.
1.9. Integrations
Property management system (PMS)
CultBooking has 40 PMS and 17 channel managers.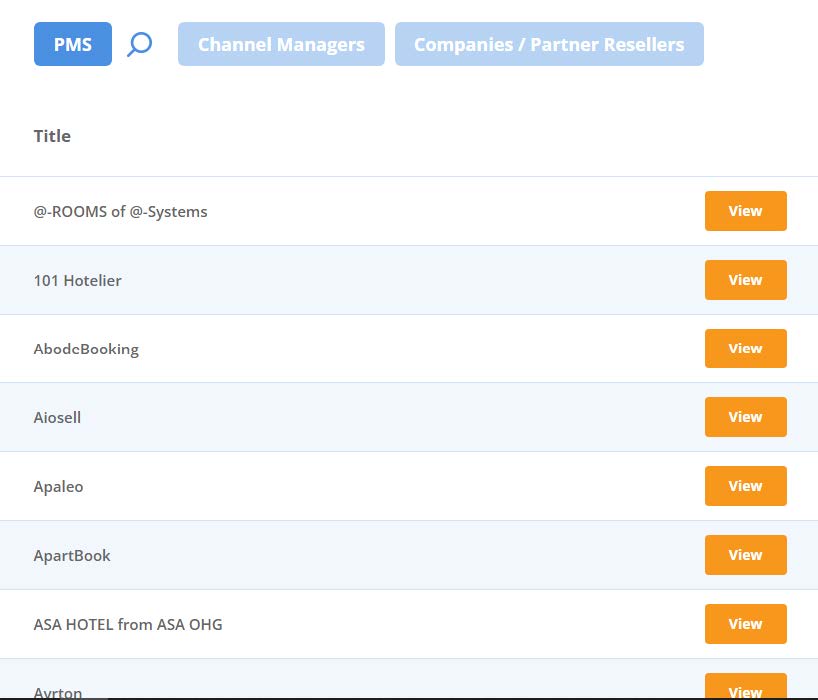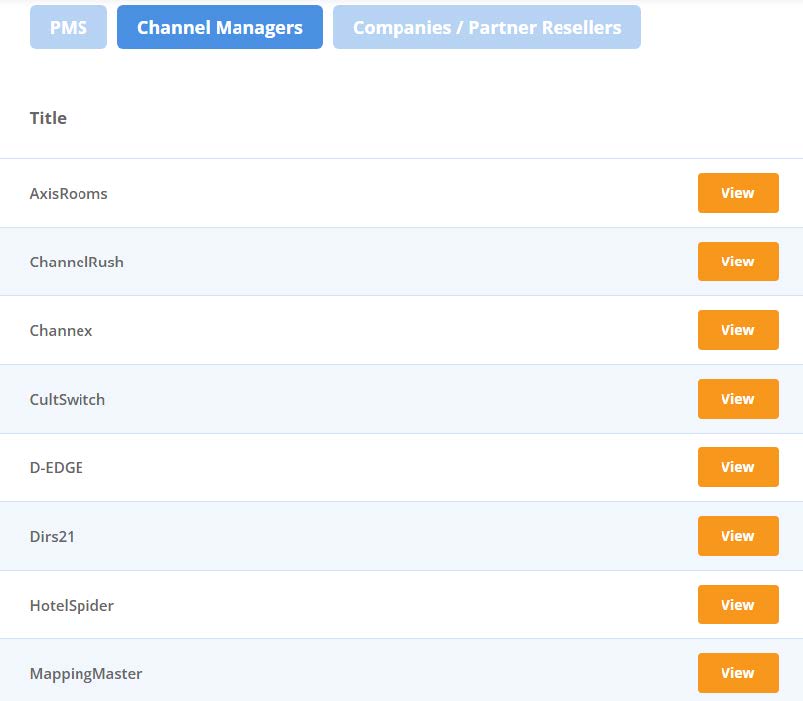 Guestline, has its Rezlynx PMS, also a cloud-based software for any device. It is a time saving and multi-functional tool for a hotelier and owners, supports from Front Office, Reservations, Housekeeping, Maintenance Revenue Management to Accounting teams.
However, you cannot see other listings of channel managers in their websites instead you have to fill up form for inquiries and wait for their email.
2. Booking Confirmation
CultBooking – An email will be sent to confirm the booking.
Guestline – After successful payment made, a booking confirmation will be sent via email.
3. Cancellation
Granting there is also another customer who have the option to reserve the accommodation, hotel can cancel the reservation of another guest without full payment has been made within a certain period.
Hotel have the right to cancel the contract at a reasonable and uncontrollable grounds like natural phenomenon (heavy rains, heavy snow, hurricane and the likes)
Customers can also cancel a reservation within a certain period of time to avoid penalties and charges. IF cancellation is made after the agreed date set by the hotel reservation period, and in the event for no show, damages will be charge to the guest account.
4. Offer / Pricing
CultBooking offers a 90 days free trial with no risk and no obligations and a free demo to test the software.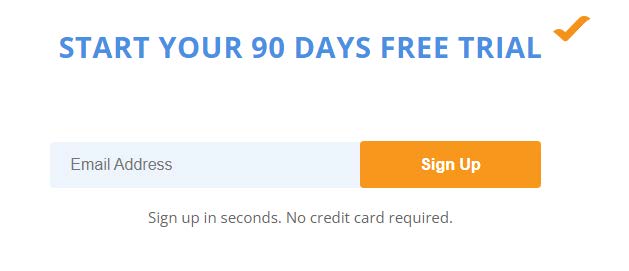 Below is CultBooking's price range. You can choose 4 different subscription plans.
Starter subscription plan offer a free of charge but takes 5% commission.
Pro subscription plan remains 29Eur per month with 0% commission.
Self-Service subscription plan, includes a channel manager for 58Eur per month and takes 0.25Eur per transaction.
Full-Service subscription plan, which also includes a channel manager for 75Eur per month and CultSwitch Channel manager – a state of the art software that offers Automated synchronization, personal support and advance, more direct bookings and increased online visibility.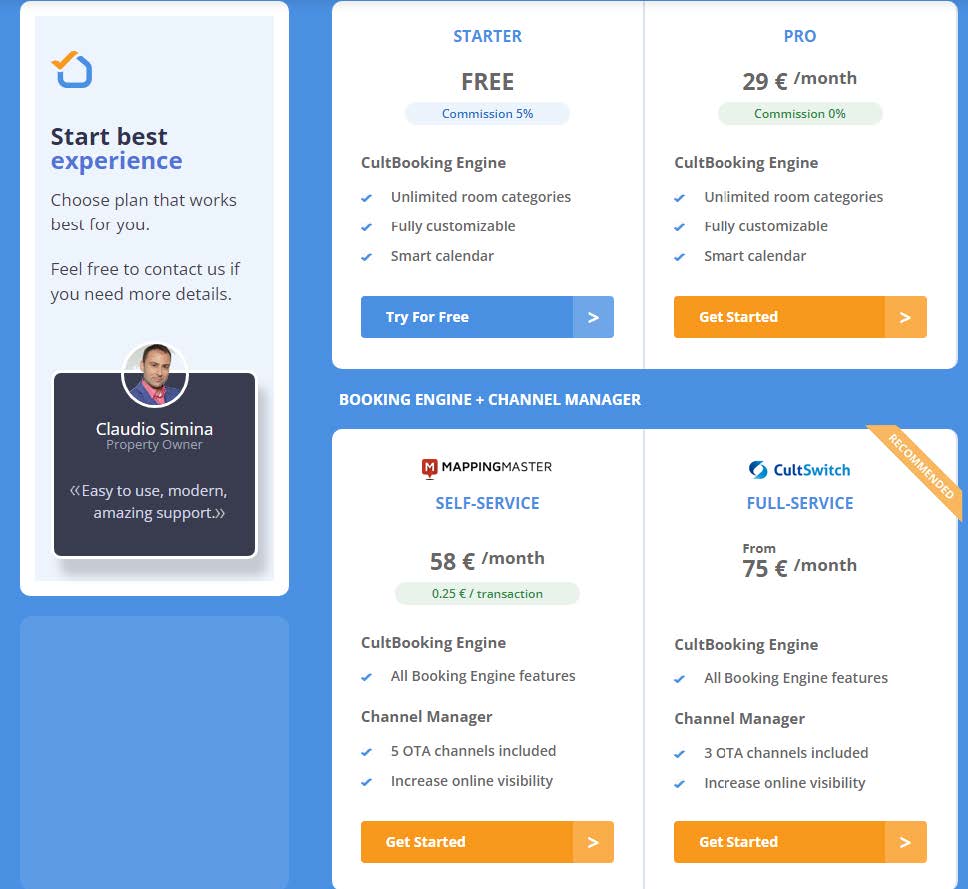 Guestline offers training sessions, hands-on trainings and workshops. Even after the software is already live, they continuously provide support and trainings to ensure the system is always up to date with their new product updates. However, prices are not posted in the website. You have to fill up the forms if you want to reach them and wait to be contacted from their team.
5. Installations (Hotels that are using this booking engine)
These are some hotels that uses CultBooking:
Hotel-Restaurant Tum Stüürmann
Hotels that use Guestline system:
From signing the order, it will take about 6 weeks to implement the software depending of the number of factors like the number of solutions, group roll outs availability for project meeting and the likes.
Some of the Hoteliers who uses Guestline:
Lakeside Hotel and Spa – Lake Windermere, UK
Washingborough Hall – Washingborough, Lincoln
St Moritz Hotel and Villas – Trebetherick headland in Cornwall
The Tawny – Staffordshire, UK
Best Western Fowey Valley – Cornwall
The George Hotel – Limerick, Ireland
The Club Company – IK
Dart Marina Hotel – Dartmouth, UK
Romantik Hotel Neuhaus – Germany
City Hotel de Jonge – Assen, Netherlands
Best Western Hotel Brussels South and Hotel Arlon
The Dean Court Hotel BW Premier Collection – York
https://www.guestline.com/resources/success-stories/